CREATIVE AND DIGITAL SKILLS CENTRE
A new skills facility on the high street providing, especially young people, access to creative and digital play, learn, and training for future employment opportunities
Photo: New Hazlehurst artist studio in restored 71 High Street, photo credit Lauren Quayle.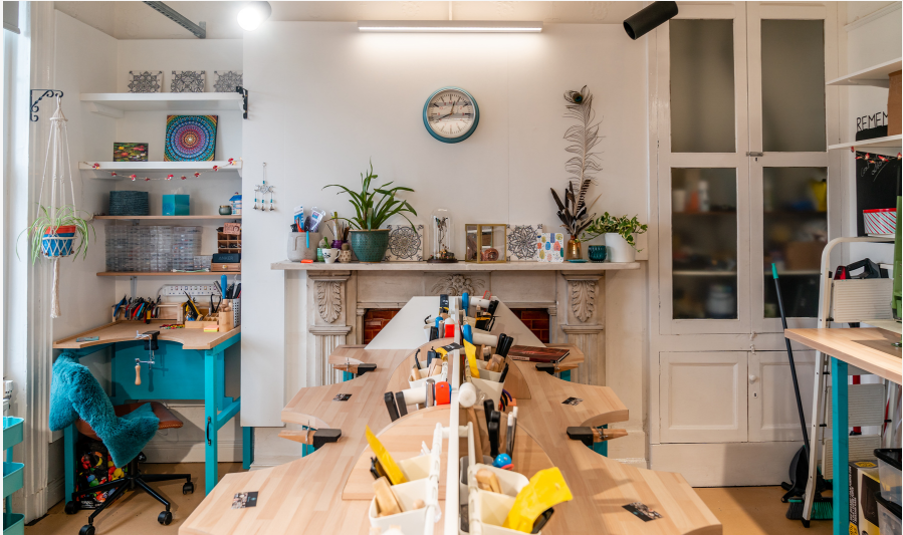 Latest News
Planning permission was granted, subject to conditions, for the plans at 63-65 and 57-59 High Street on 24 August 2023.
You can see the decision notice on https://webapp.halton.gov.uk/planningAPPS/showCaseData.asp?CaseNo=22/00542/HBCFUL
Project Description
This project has been developed in response to the LCR Combined Authority Employer Skills Survey 2017 and the Apprenticeship Growth Plan 2018-2020, which reported a larger workforce skills gap than the national figures in digital and creative sectors. Located on the High Street, this project will see the refurbishment of buildings to provide a home for local creative and digital organisations, providing a visible focal point for creative and digital organisations and learning in the Old Town. Building on the presence of Hazlehurst Arts Collective, It will be home to a range of existing training and skills providers that have a long track record of delivery. The project will also be able to show links to the wider borough, with the participating organisations being able to teach a wealth of new skills including those used in creative and digital activities, like coding, radio, and drone programming. Having a physical presence will make it easier to link with Sci/Tech Daresbury bringing their educational outreach in relation to future employment opportunities to the town centre. The project will also link to the nearby Brindley Theatre giving the organisations based at the centre access to new audiences. The centre will also provide affordable, quality, shared training and learning spaces.
The start of the restoration of 71 High Street is the first part of this project to be delivered, for more information see https://hbcnewsroom.co.uk/long-awaited-restoration-of-71-high-street-runcorn-underway/.
The restoration plans for 71 High Street can be seen on the planning portal https://webapp.halton.gov.uk/planningAPPS/showCaseData.asp?CaseNo=20/00593/LBC. RIBA stage 2 concept plans by K2 Architects from Liverpool to create more spaces on the High Street for the community voluntary sector to deliver creative and digital skills to local residents can be downloaded
Initial RIBA stage 3 plans can be seen here. The plan for the winter garden in 59 High Street is developed with the winter garden in Granby Street, Liverpool, as example. The concept for 57 High Street has also evolved.
The Council recently acquired 65 High Street and aims to repurpose the building, see the press release: https://hbcnewsroom.co.uk/latest-reconnecting-runcorn-high-street-restoration-announced/
A public consultation drop in session was held 12 July at the Runcorn Library, where the public discussed plans with officers present. An online survey was available for four weeks. Please download the frequently asked questions.
A new image has been released by K2 Architects, wonderfully created by Rrezelinda Haziri. The image shows the proposed new youth centre @ 57 High Street, adjacent the Camden buildings, including plans for a winter garden at 59 High Street with a partial glass roof.
The refurbishment plans for 59, 63, and 65 High Street, as well as the new built plan for 57 High Street can be seen on the planning portal
https://webapp.halton.gov.uk/planningAPPS/showCaseData.asp?CaseNo=22/00542/HBCFUL
Plans for the refurbishment of 69 High Street can be seen on the Planning Portal https://webapp.halton.gov.uk/planningAPPS/showCaseData.asp?CaseNo=22/00616/FUL