RUNCORN STATION QUARTER ENTERPRISE HUB
A new enterprise facility at the station gateway, with quality modern offices, that are not available in the town centre. This will attract new businesses, providing a wider variety of job opportunities in the heart of the community, more accessible to local people.
Photo credit Lauren Quayle.
We are currently gathering some information to help us inform our next design stage of the Enterprise Hub. If you are a creative and/or digital business could you complete the following 5-10 minute survey about you and your business needs to help us gauge the type of facility that will help your business grow.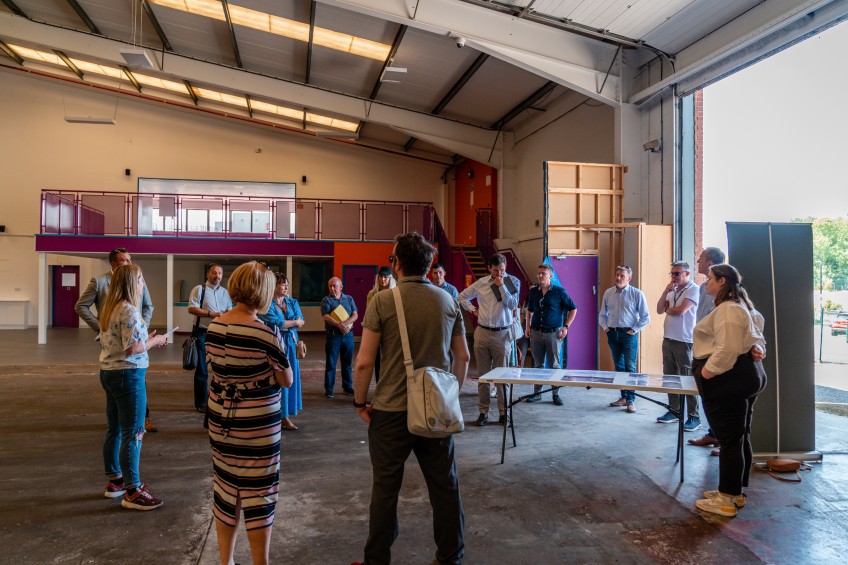 Latest News
We recently carried out a very successful soft market test exercise to gauge market interest for the operational management of the building. We are now in the process of obtaining expert legal advice to begin the procurement of an Operator, so watch this space for more exciting news as we move closer to establishing a partnership with a property management expert.
Project Description
This project will invest in redeveloping an opportunity site close to Runcorn Station as part of the redevelopment of the Runcorn Station Quarter Enterprise Hub within the Liverpool City Region. Towns Fund investment will be used to redevelop a site into an enterprise hub with flexible office space. It will create quality office accommodation which is currently not available in the area, and therefore support the strategic aims.
The aspiration to establish a new enterprise facility at the Runcorn Station Quarter Enterprise Hub became more specific with the recent announcement for Elite House: https://hbcnewsroom.co.uk/new-enterprise-facility-at-runcorn-station-quarter/.
In June 2022, K2 Architects created an initial project brief to RIBA stage 1, which sets the scene for a proposed pathway toward successful delivery of an Enterprise Centre. The report can be downloaded here
In Aug 2022 K2 Architects also finalised a RIBA stage 2 report based on the outcomes of the stage 1, which offers a range of workspace options to develop Elite House into a business incubator Enterprise facility in the recognised regeneration area of Runcorn Station Quarter Enterprise Hub. The K2 plans can be downloaded here.